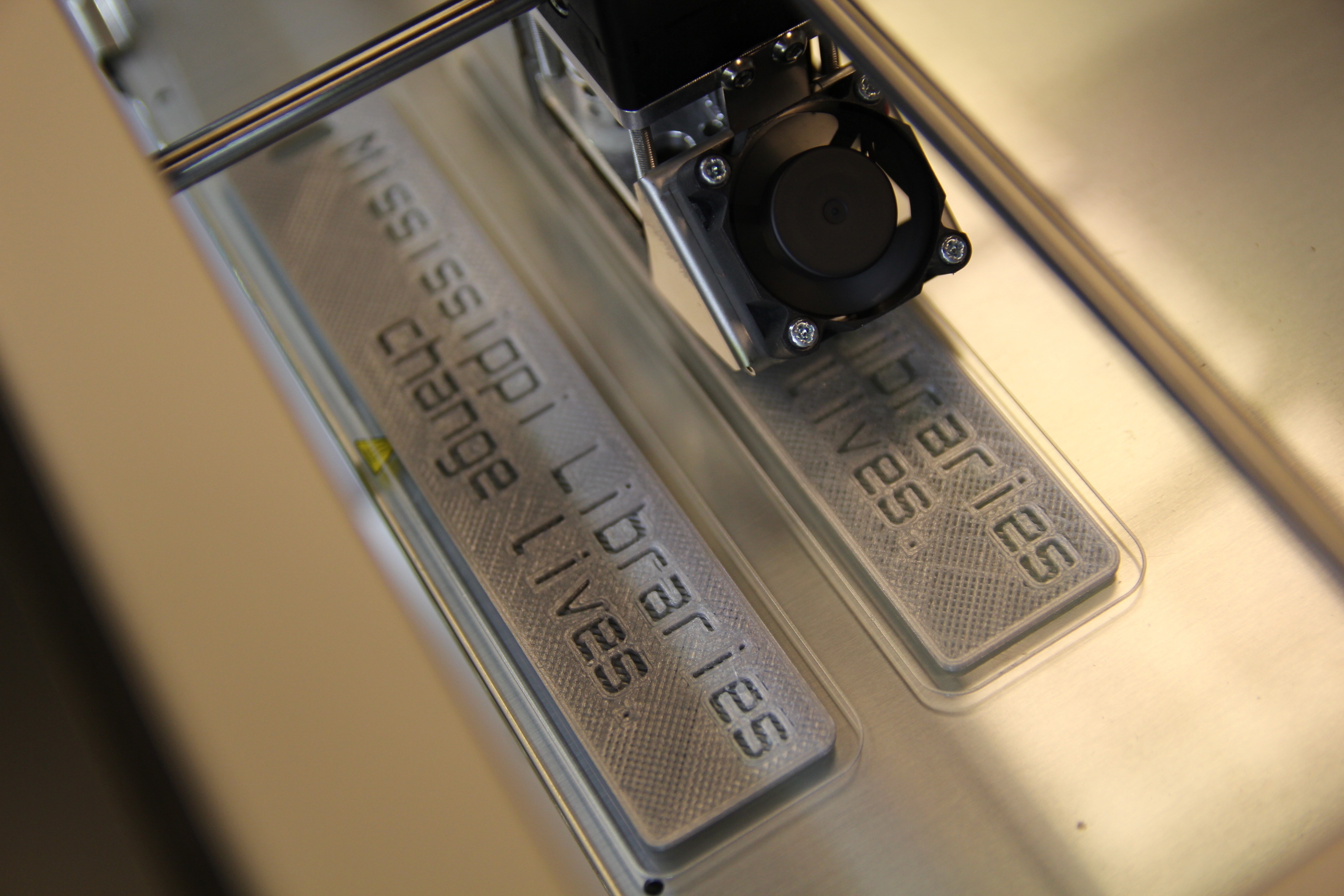 Public libraries and public schools may borrow one of two 3D printers for use in their libraries after completing a successful application, which focuses on partnerships and programming. Read more about the guidelines here.
Introduction
History
From April 2013 to December 2015, the Mississippi Library Commission developed and implemented the Mississippi Library Leadership Institute, which was funded by a 21st-Century Laura Bush Grant from the Institute of Museum and Library Services. The fifty Mississippi library leaders who participated in MLLI were given a stipend to create a community project in which they pushed the boundaries of traditional library services to enhance their communities in some way.
The MLC Makes Community project is a direct result of MLLI. Borrowing concepts from several participant projects, MLC will push the boundaries of traditional library services by making innovative technology available not just to public libraries but also to public schools partnering with libraries in the state of Mississippi.
MLC Project Goals
The first phase of this project is the 3D Printer Loan-Out project. With IMLS funds, MLC was able to purchase two Ultimaker 3D printers to loan to public libraries and public schools in Mississippi. Our primary aim is to allow Mississippians to have access to this technology, even if for a limited time. Libraries may use the printer to gauge community interest in the technology and to hold 3D printing programs.
Our secondary—but equally important—aim is to build relationships between public libraries and the communities that they serve. The libraries and schools that borrow the printers will be expected to have partnerships as outlined in the guidelines.
Mississippi State Extension Services has been MLC's main partner in this project. Extension Services staff have lent their expertise and time to helping us make this happen. Additionally, several MSU Extension agents across the state have training and interest in 3D printing and want to act as partners.
>> Continue to Guidelines and Applications >>
>>Continue to Resources>>
This project was made possible in part by the Institute of Museum and Library Services.